Apply now for an MSc in Island Biodiversity and Conservation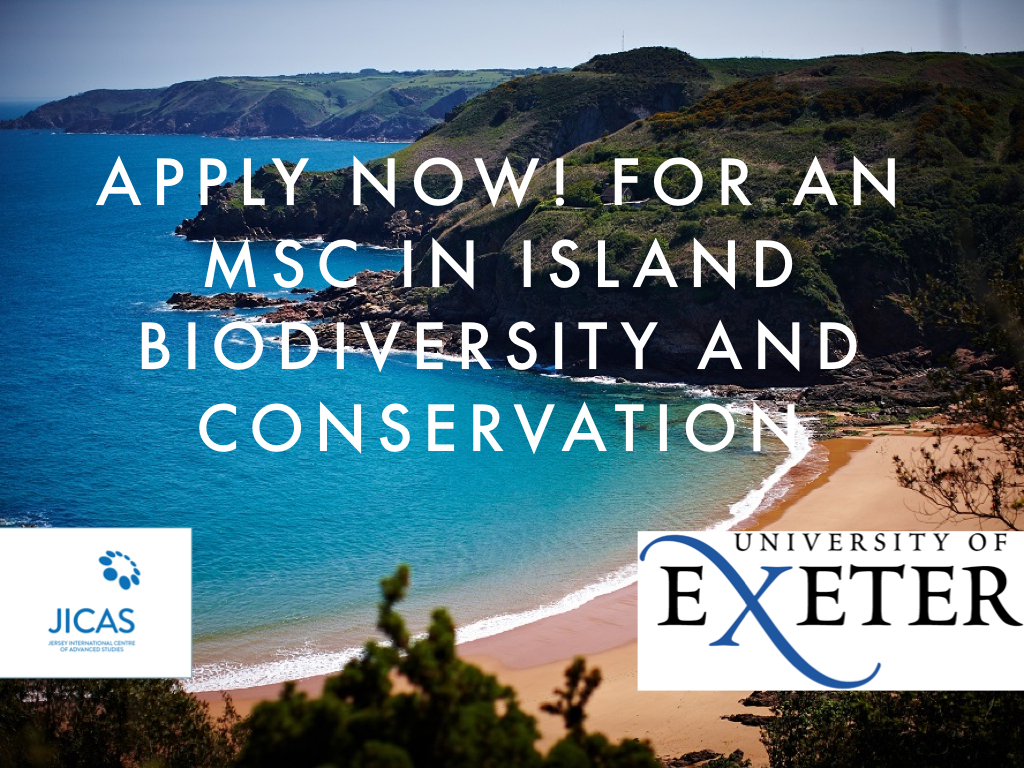 Apply Now
Bursaries now available!!
JICAS and the University of Exeter have partnered to offer an MSc in Island Biodiversity and Conservation.
The Jersey International Centre of Advanced Studies (JICAS) is pleased to announce that it has entered into a partnership with the University of Exeter to offer a Postgraduate Masters Programme in Island Biodiversity and Conservation. The programme has been designed and is being delivered by JICAS in Jersey from September 2019, with support from Exeter as the accrediting institution.
This exciting new partnership reflects the shared values of the two institutions, of international excellence in research, teaching and learning as the cornerstones by which we will rise to meet the challenges facing our world in the 21st century.
It is also recognition that Jersey is ideally placed to lead the way in meeting those challenges facing islands and island communities in particular, perhaps the most pressing of which is the conservation of the intrinsic biodiversity of islands themselves.
A consortium of world-leading academics has been drawn from institutions across three continents, to come together in Jersey to produce a unique programme of research-led study. In Island Biodiversity and Conservation, Jersey steps to the front of the international academic stage.
JICAS is an independent, non-profit institution that promotes Jersey as an international focal point for research relating to islands and Island Studies. Their vision is that this first Masters programme is an embryonic University of Jersey, not only bringing the cultural and economic benefits of a university to Jersey, but also exporting knowledge and expertise around the world. We believe that, in this new partnership with the University of Exeter, Jersey is set to become the key global academic hub, not just in biodiversity and conservation but in all aspects of islands and island life.
'BioSciences at Exeter are excited to join with JICAS in the new MSc in Island Biodiversity and Conservation'
Asst Professor James Wakefield, Head of BioSciences, University of Exeter.
Why Islands?
Islands provide some of the planet's most spectacular examples of biodiversity, making them important repositories of unique species. Yet there are probably more endangered species and habitats per capita in Small Island States and territories than anywhere else in the world. Species living on islands are more vulnerable to extinction, largely because of the impact of introduced species. Islands, especially isolated oceanic islands, have evolved in isolation for millions of years, and their animals and plants have had to compete with only a limited range of species. For this reason they provide a ready home for many species of exotic animals and plants, and their flora and fauna is especially vulnerable to extinction after the arrival of man and the exotic animals and plants that always accompany him to those islands.
Archaeological and historical studies provide many examples of resource over-exploitation leading to extinction and the collapse of civilization. Most documented species extinctions have been on islands, and contemporary ecological studies of islands show very clearly the kinds of threats faced by both island and continental ecosystems.
10 of the 34 richest areas of biodiversity in the world!

13% of UNESCO's World Heritage Sites

More than half of the world's marine biodiversity

7 of the world's 10 coral reef hotspots
Islands and Island Communities
JICAS aims to create a suite of niche Postgraduate degrees focusing on islands and island communities. We recognise that Jersey is ideally placed to lead the way in meeting the challenges facing our world in the 21st century and through cross-discipline research, teaching and learning, JICAS aims to create the next generation of global thinkers and practictioners. This, then, is where we begin!
JICAS hosts a number of events, lectures and seminars
JICAS Presents Cafe Scientifique! the University Lecture Series and the Postgraduate Research Seminar
From Noam Chomsky to Richard Dawkins, JICAS has brought some of the biggest and brightest names in Academia to Jersey. For over the past four years, JICAS has partnered with Branchage Art and Film Festival, Jersey Festival of Words, University College Jersey, Jersey Heritage, Hautlieu School, Jersey College for Girls and others to offer a number of events, lectures and seminars, many of which are free and open to all! For more information sign up to our newsletter or click Learn More!